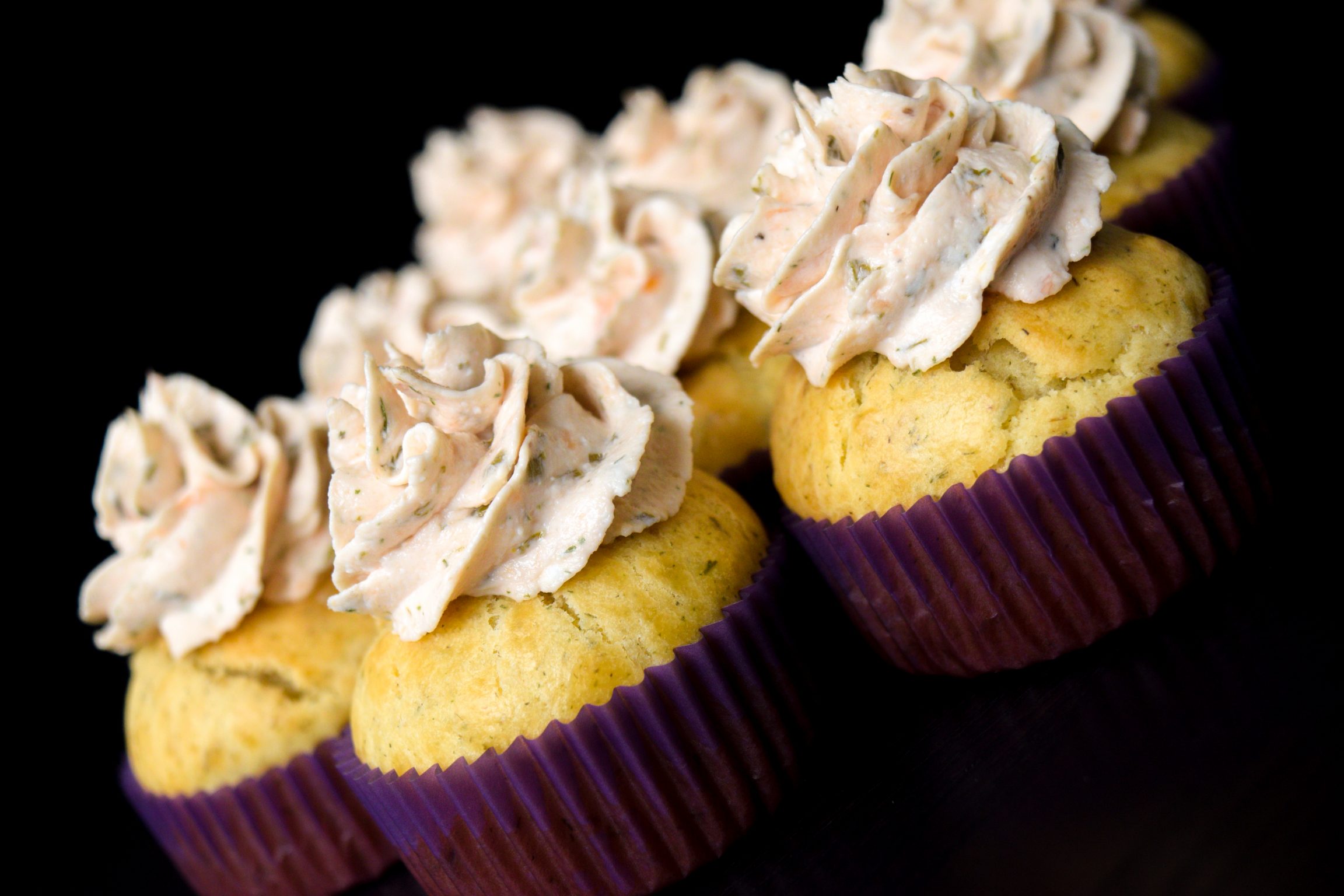 Sometimes I enjoy thinking outside the box, especially in the kitchen because coz in that case there is only one outcome – brilliant food (okay okay, maybe not always hahaha, sometimes the outcome is pile of poo but let's pretend that we all are master chefs!). So what about baking not red velvet, not caramel and not even chocolate chip but salmon cupcakes! At first my boyfriend had a big frown on his face and was sceptical about savoury cupcakes. Soooo… Savoury cupcakes – yay or nay?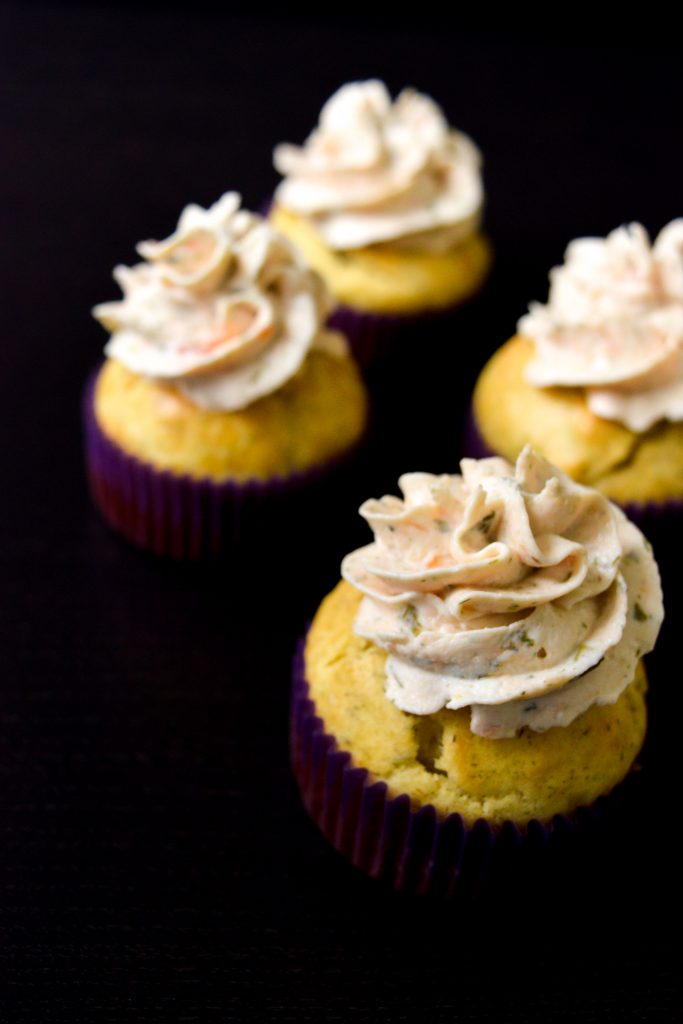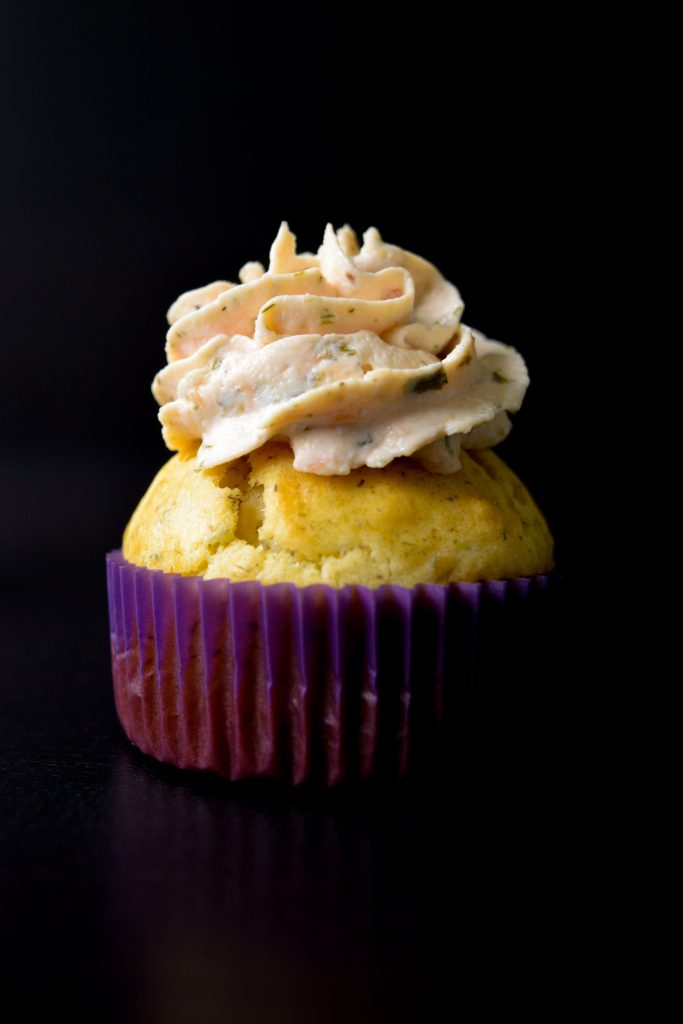 After several bites we definitely raised our thumbs up. The salmon icing is really outstanding and I use it as a spread on my morning sandwiches or simply crackers. Trust me, it gets a lot of compliments. Personally, I let it sit for a day because then the flavors deepen and blend together – 12 hours make a great difference. You will take a simple cream cheese to a new heights!
Another very important element is the body of the cupcake – it is soooo good! I even love to use it as a bun or bread next to some kind of soup, stew or chilli. Amazing scent, amazing fluffiness, amazing taste. Good or good? I must add that I had some feedback recently that these cupcakes stick to the liners and that it's better to bake them in silicone molds – You can try that. I never had this problem the cupcake papers come right off effortlessly. So if you're looking for something to surprise yourself and your friends, smoked salmon cupcakes will definitely do the trick!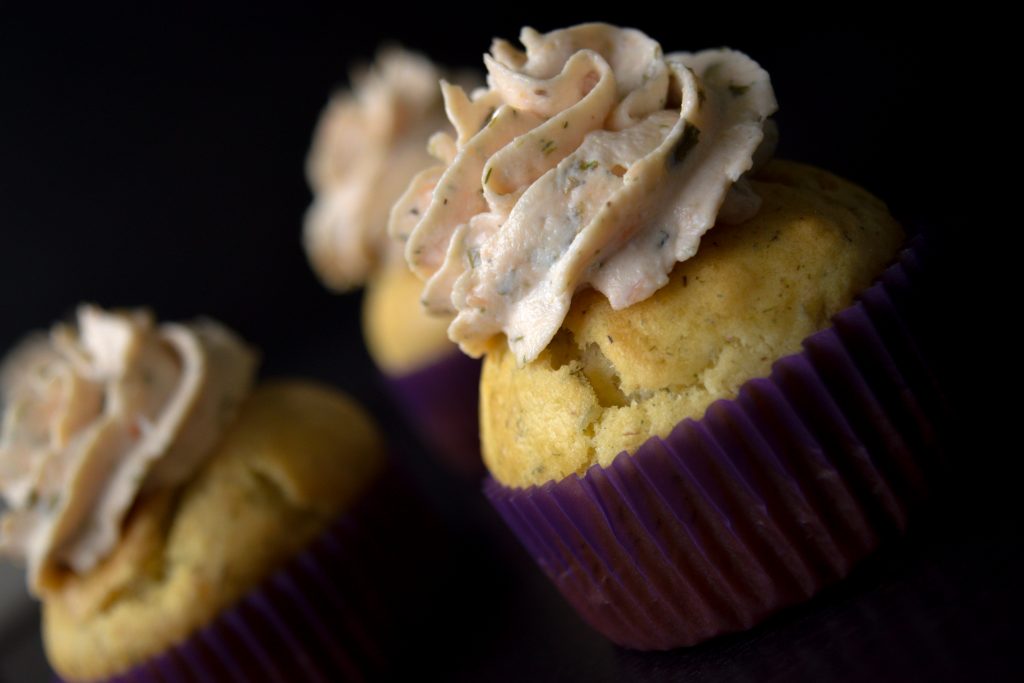 Smoked Salmon Cupcakes
Ingredients
Cupcakes
3

eggs

150

ml

buttermilk

120

ml

oil

200

g

flour

60

g

corn starch

2

tsp

baking powder

1

tsp

sugar

pinch

of salt

dill
Icing
100

g

smoked salmon

125

g

Philadelphia

with herbs or other cream cheese

100

g

cottage cheese

lemon juice

salt

if needed
Instructions
In a large bowl lightly beat eggs by hand, pour in buttermilk, oil and whisk until well combined.

Mix flour, corn starch, baking powder, sugar and salt in another bowl.

Pour wet ingredients into dry and mix until combined. Add some chopped dill and mix again. I prefer a lot of dill! The dough should turn out thick and elastic.

Distribute cupcake batter. Each cupcake liner should be about ¾ths full. Bake until cupcakes are set and firm to the touch, about 20 - 25 minutes at 180°C.

Put salmon in a food processor. Pulse the processor to coarse-grind the salmon, then mix the salmon with cottage cheese, Philadelphia, lemon juice and salt (if needed).