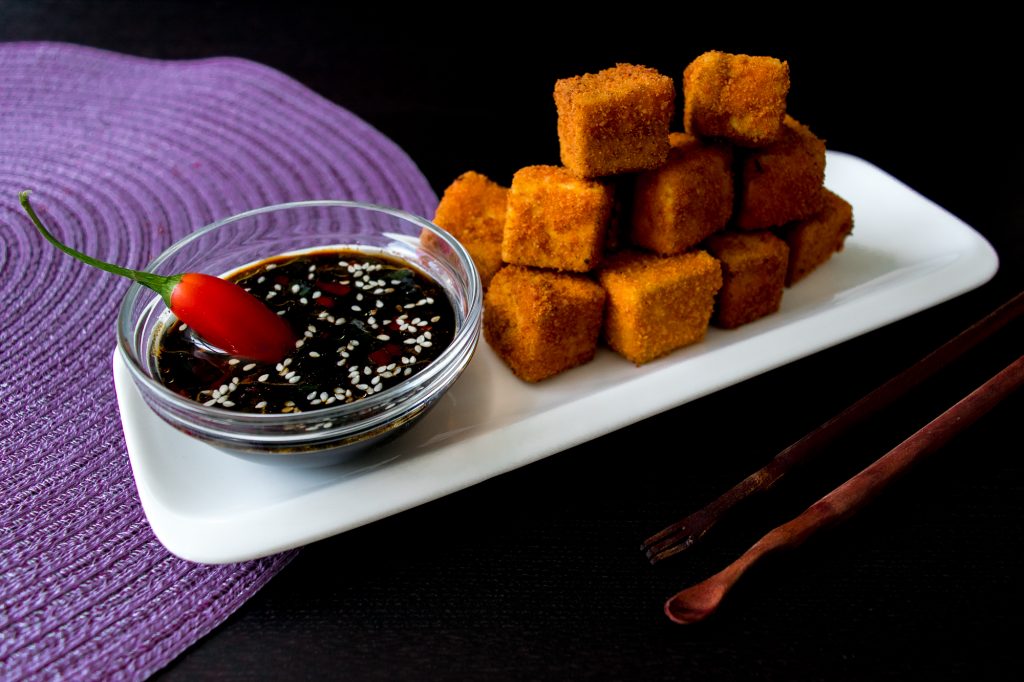 I'd really love to simply erase this day from my life. Where should I apply for this, huh? I woke up this morning with an enormous need for baking a cake (I have to admit it, for the past several months this need visits me very very often. Maybe you have the same issue also?) and so I did. I had bookmarked a mouth-watering recipe of a lemon curd vanilla cake last week and today was the day to try it out. Sadly, I managed to spoil the cake by dropping it on the floor and so I cried like a little child for an hour or more.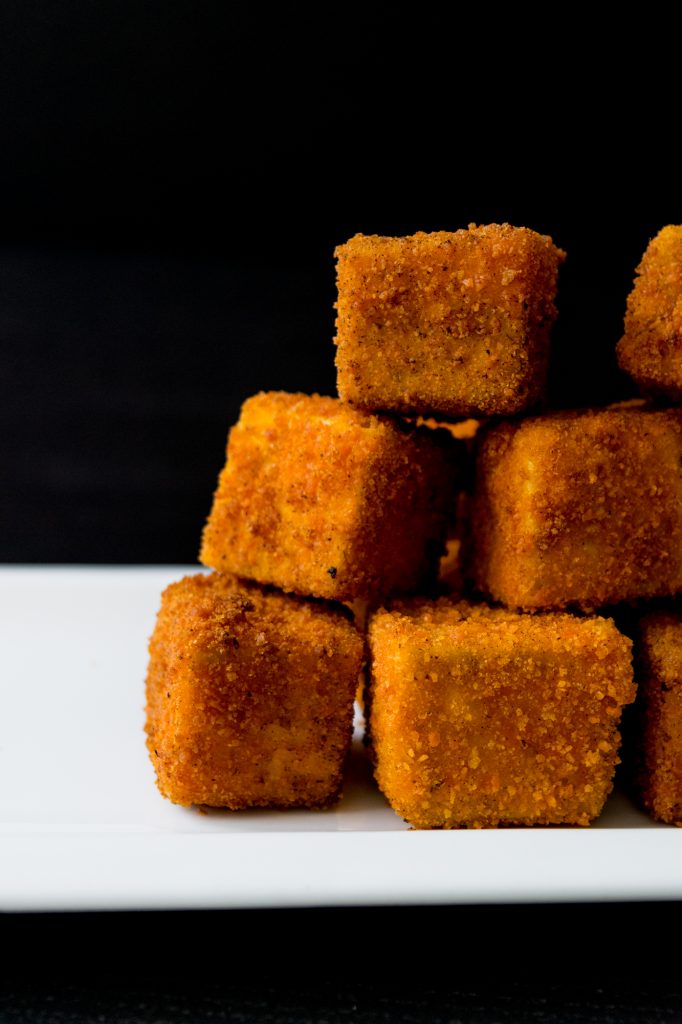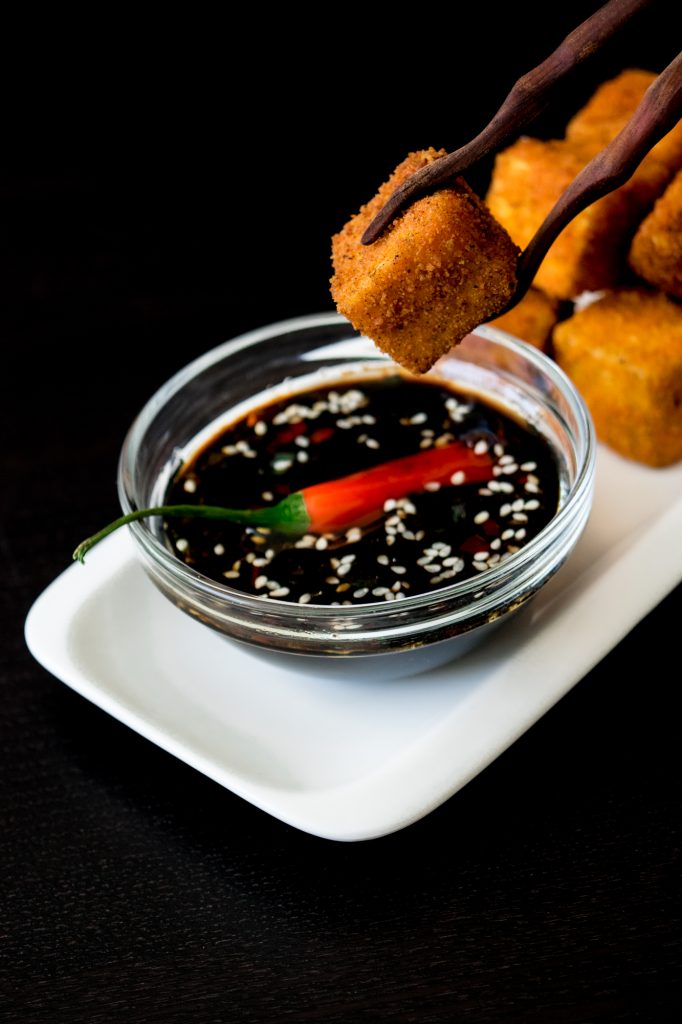 Oh, wait! Dropping the cake on the floor was not the worst part – I've been making Pusheen cat decorations from gum paste for 2 hours to decorate that cake and they were crushed completely along with the cake itself. Wait a minute… This post has nothing to do with cakes and bakes! It's about fried tofu with sesame-soy dipping sauce! So after I wiped away my tears I started preparing one of our family's favourite snack which I've already mentioned. It was my today's comfort food.
First of all, fried tofu is an amazing choice for vegetarians and you'll never get tired of it because you can always use different spices for the snack. What's more, I use tofu that already has seaweed or other spices in it. Caution: use only firm tofu, otherwise you won't be able to cut it in pieces. In just 10 minutes you'll have crunchy and golden brown tofu with sesame-soy sauce and a happy belly for the rest of the day!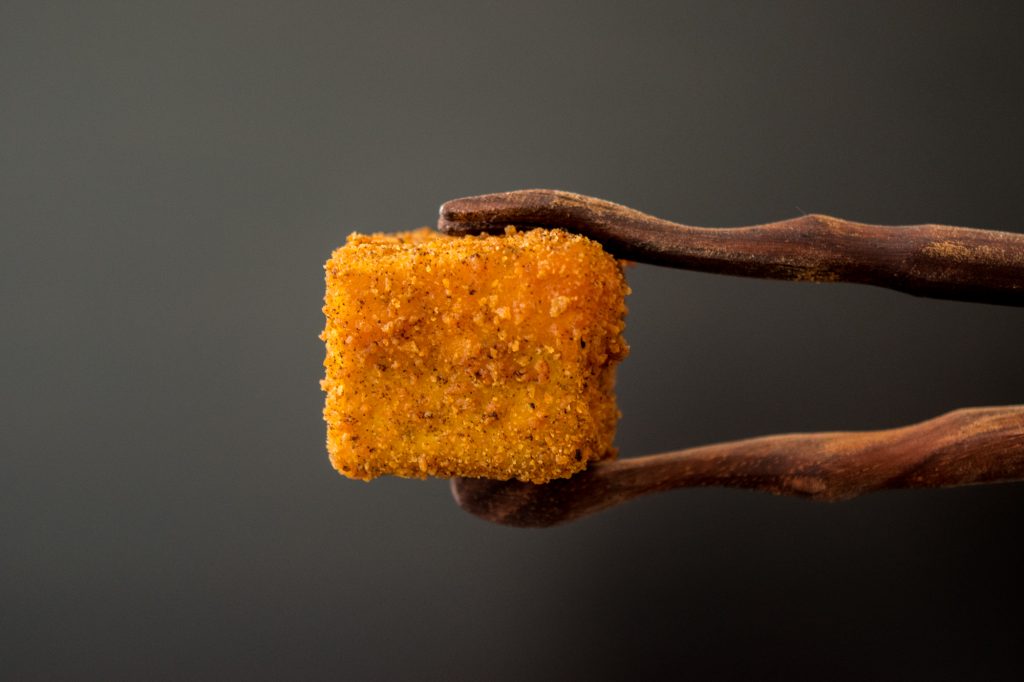 Fried Tofu with Sesame-Soy Dipping Sauce
Ingredients
Fried Tofu
1

block

12.3oz or 350g of extra firm tofu

1/2

cup

cornstarch

2

tsp

Tikka Masala spice

1-2

eggs

1/2

cup

panko flakes or bread crumbs

Vegetable oil
Sesame-Soy Dipping Sauce
1/4

cup

low-sodium soy sauce

1

tsp

rice wine vinegar

1

tsp

sugar

2

tsp

sesame oil

3

cloves

garlic – minced

1

red chili pepper

1

spring onion – chopped

sesame seeds
Instructions
Combine all sauce ingredients in a small bowl, and set aside.

Add cornstarch in a small bowl. Then whisk egg with Tikka Masala in another small bowl. Finally, add in panko flakes or bread crumbs into a third small bowl.

Carefully remove the tofu block from its package. Slice into cubes.

Coat each tofu cube first in the cornstarch bowl, then egg, then panko flakes or bread crumbs.

Add vegetable oil into skillet, heat on medium-high fire. The oil will be ready when bubbles form around the handle of a wooden chopstick or spoon when placed in the oil.

Place all the tofu cubes into the skillet. When one side browns, flip it over to another side. Repeat until nicely browned. Remove from skillet and drain on paper towel. Serve hot with sesame-soy dipping sauce.