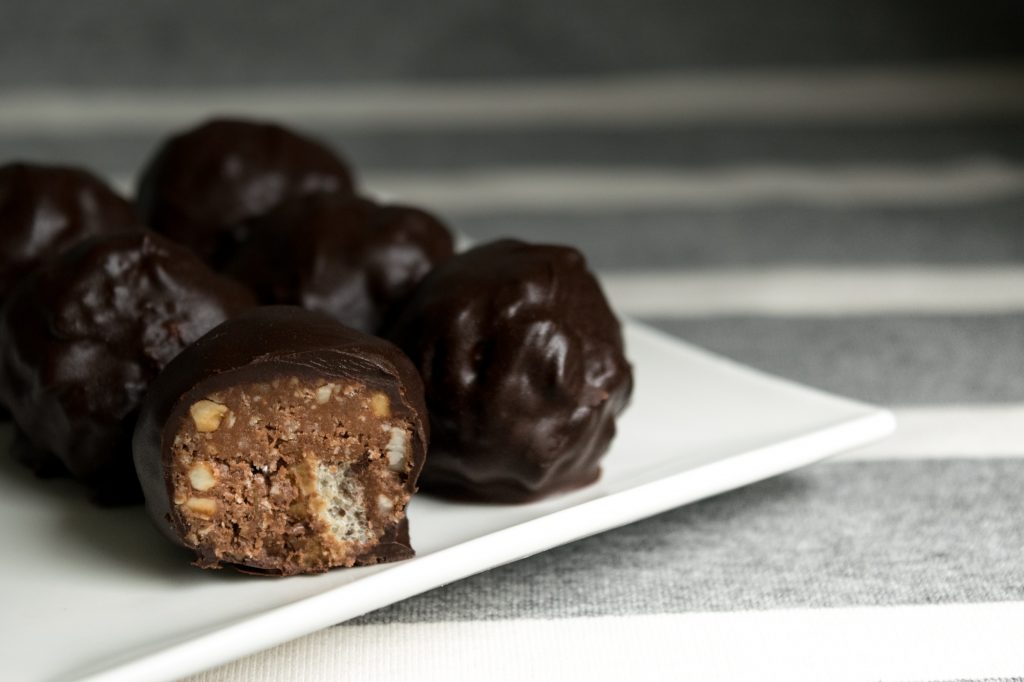 It has been three years today since my babe took me to a park, lifted me up and whooshed me through the air, then we both lost our balance and fell down straight on the stairs. At that 'romantic' moment I was laying on the stairs with my knees and elbows scraped as he asked me to be his girlfriend. Even today it is still very difficult for me to understand what made me cry at that particular moment – the pain or the happiness?😂 Despite all that happened today my wounds and scraps are healed and that happiness is growing day by day.♥️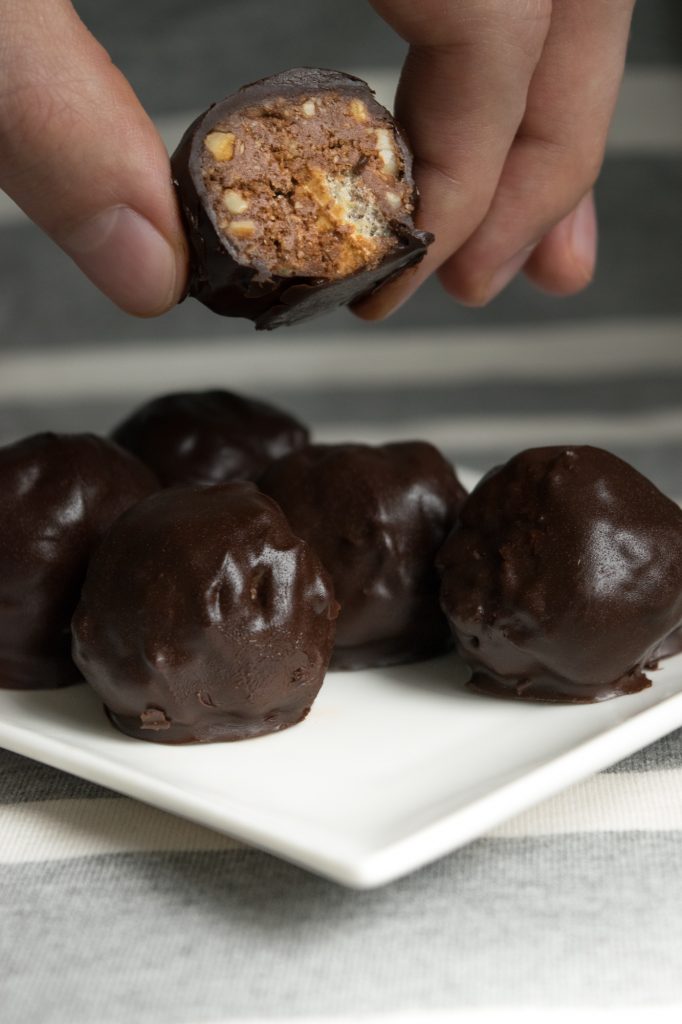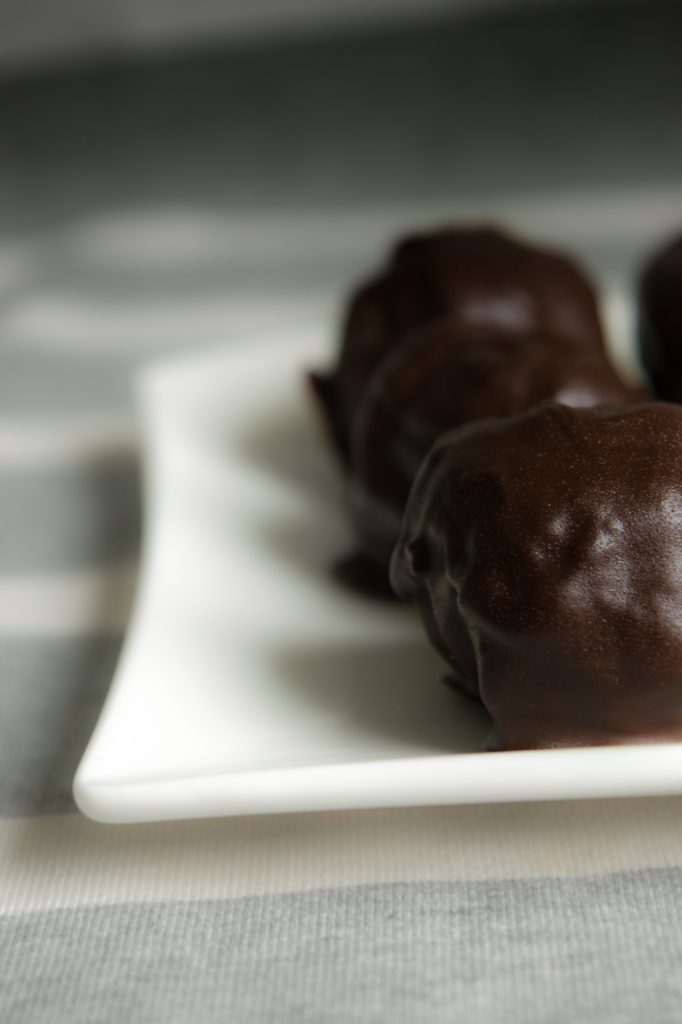 I decided it would be a good idea to make some food TOGETHER since I am the only cooking person in the house and my boyfriend's greatest cooking achievement so far was cooked buckwheat with tomato sauce (doesn't sound very appetizing, huh?). Because of my enormous love for Ferrero Rocher truffles we agreed upon making them for our anniversary. I suppose that what I am about to say now won't surprise You at all but… I had to make these truffles ON MY OWN coz every single thing Kevin touched broke, cracked or was spoiled in another way. The only mark left by him is that hand You see in the photo, but even this happened only because he came to the kitchen to steal some Ferreros while I was playing around with my camera. I have no comments.. 😄
Ferrero Rocher truffles turned out surprisingly close to the original ones but the best thing is that this recipe requires minimal effort and there's no way You'll go wrong (unless You are my boyfriend). Next time I would certainly temper the choholate (Tempering is improvement of the hardness and elasticity of chocolate by reheating and then cooling it) because in case of direct contact with warm surfaces, hands or weather chocolate starts melting. Such a pitty I wasn't able to temper my chocolate today because I'm still waiting for my food thermometer to arrive, however, if You're not planning to transport or bring these Ferreros to an exhibition, there is no need for tempered chocolate. All in all, I invite You to take a glimpse at this recipe!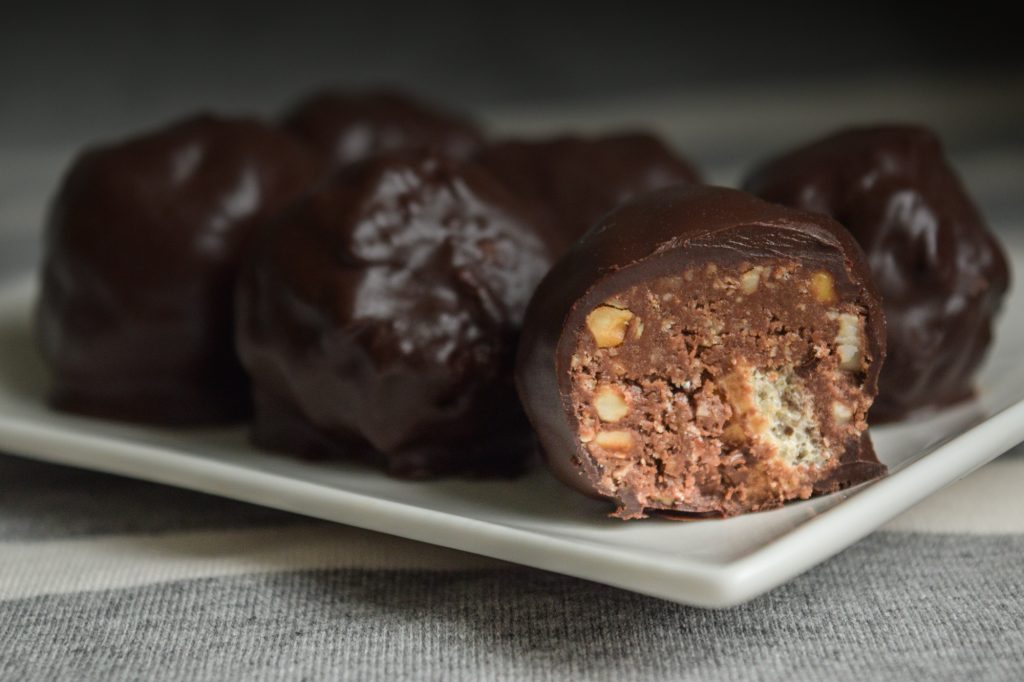 Amazing Ferrero Rocher Truffles
Ingredients
100

g

chocolate or hazelnut wafers

150

g

hazelnuts

200

g

Nutella

150

g

milk chocolate

1

v. š. oil
Instructions
Preheat the oven to 180° C and roast hazelnuts for about 10 minutes, use Your fingers to remove the skin of hazelnuts when they are completely cool. Leave several whole nuts to put inside the truffles and chop the others.

Crush wafers, add hazelnuts, Nutella and mix until well combined. Shape the mix into small balls adding one hazelnut in the center. It is easier to form balls when hands are wet. Refrigerate all balls for at least 1 hour.

Melt the chocolate with oil. Cover chilled balls with chocolate and refrigerate until they harden.